Conservar Património in 2022
Abstract
Over the past year, the editorial team of Conservar Património has benefited from a significant increase in the number of associate editors, which was an essential step given the growing number of submissions and the consequent increase in the editorial workflow. In its current form, Conservar Património has 10 associate editors, with different fields of expertise and from various international institutions, besides the four editors-in-chief, who are also associated with different thematic areas. Conservar Património is a Diamond Open Access journal, which means it is free for both authors and readers. This option is only possible due to the generosity and voluntary work of the entire editorial team, including the production editors and editorial board, who believe that knowledge should be available to everyone.
In order to simplify the page design process and thus decrease our publishing times, manuscripts will be paginated in a single column, starting with this volume (40), and not double columns as has been the regular practice to date. The image of the journal will also be reinforced with the addition of the logo at the top of the various pages.
With these changes in the editorial team and the layout of the articles, we hope to improve the response of Conservar Património to our authors and readers.
Downloads
Download data is not yet available.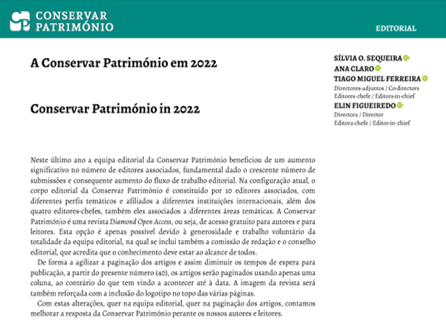 Downloads
How to Cite
Sequeira, S. O., Claro, A., Ferreira, T. M., & Figueiredo, E. (2022). Conservar Património in 2022. Conservar Património, 40, 8. https://doi.org/10.14568/cp40fm2
License
This work is distributed under a Creative Commons Attribution License (CC BY-NC-ND 4.0) which permits use, distribution, and reproduction in any medium following no commercial or derivatives, provided the original author and source are credited.
Copyright remains with the authors.