Open calls in special issues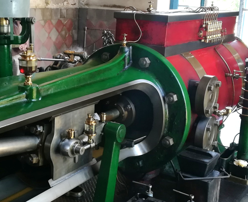 Conservation of industrial and technological heritage
Guest Editors
Alison Wain
Centre for Creative & Cultural Research, University of Canberra, Australia
Graça Filipe
História, Territórios e Comunidades, Faculdade de Ciências Sociais e Humanas, Universidade Nova de Lisboa, Portugal
Isabel Tissot
Laboratory for Instrumentation, Biomedical Engineering and Radiation Physics, Faculty of Sciences and Technology of the NOVA University of Lisbon, Portugal
Laura Brambilla
Haute École Arc, Switzerland
Marta Manso
Laboratory for Instrumentation, Biomedical Engineering and Radiation Physics, Faculty of Sciences and Technology of the NOVA University of Lisbon, Portugal
Open for submissions NEW DEADLINE! until 31 Jan 2023
This special issue is dedicated to the safeguarding and conservation of industrial and technological heritage.
Conservation of industrial and technological heritage can be understood as a multidisciplinary process involving various management institutions and other stakeholders in industrial heritage such as academia, industry, volunteer groups, private owners, visitors and educational groups. This wide engagement allows reflection on the processes of recognition and selection of industrial and technological heritage objects and methodologies for their conservation.
This special issue will include a selection of works presented at the Big Stuff 2022 conference on the theme "Working together conservation and safeguarding of industrial and technological heritage" but is also open to other contributions.
Topics of special interest include but are not limited to:
In-situ industrial heritage conservation processes;
Methodologies for operational conservation of industrial objects;
Agents and processes for safeguarding and conservation;
Training of professionals in conservation of industrial and technological heritage.
Manuscript Submission Information
Manuscripts must be submitted online by registering and logging in to this website. All manuscripts must follow the journal authors' guidelines and are subject to peer review. In the submission process, at Comments to the Editor, it must be stated that the manuscript is intended for this special issue.
Accepted papers
The revised and accepted papers will be first available online in the in press section. These papers will afterwards be gathered and published in this special issue of Conservar Património.
- Ferreira-Lopes, P. (2023). Exploring Andalusian industrial heritage through data science: breaking down the gaps and concerns to visualise opportunities. Conservar Património. https://doi.org/10.14568/cp27024
- Marshall, S., & Riddle, J. (2023). A tale of hazards: Ingenium's industrial collections move. Conservar Património. https://doi.org/10.14568/cp29217