Cover and technical information
Abstract
CONSERVAR PATRIMÓNIO
Revista académica com avaliação por pares
Academic peer-reviewed journal
Edição Publisher
Associação Profissional de Conservadores-Restauradores de Portugal (ARP)
Rua Saraiva de Carvalho nº8 Águas-furtadas 1250-243 Lisboa, Portugal
Contribuinte VAT registration number n.º 503 602 981
Periodicidade Frequency
Quadrimestral Triannual
Registo ERC
127342
ISSN
2182-9942 edição digital digital edition
DOI
https://doi.org/10.14568/cp
Director Director
ELIN FIGUEIREDO
Directores-adjuntos Co-directors
ANA CLARO
ANA ZÉLIA MILLER
SÍLVIA O. SEQUEIRA
TIAGO MIGUEL FERREIRA
Paginação da revista Journal layout
Joana & Mariana
Online: 2019-11-6
Publication: 2019-11-6
Downloads
Download data is not yet available.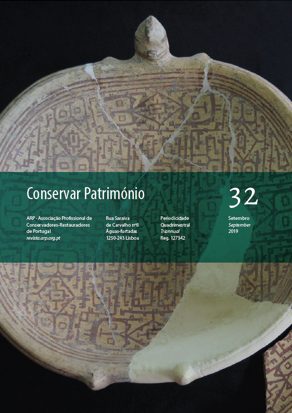 Downloads
How to Cite
AA.VV. (2019). Cover and technical information. Conservar Património, 32, 1–5. https://doi.org/10.14568/cp32fm1
Section
Cover and technical information
License
This work is distributed under a Creative Commons Attribution License (CC BY-NC-ND 4.0) which permits use, distribution, and reproduction in any medium following no commercial or derivatives, provided the original author and source are credited.
Copyright remains with the authors.