Cover and technical information
Abstract
Director | Editor
António João Cruz
Professor Adjunto
Escola Superior de Tecnologia de Tomar, Instituto Politécnico de Tomar, Portugal
ajcruz@ipt.pt
Directores adjuntos | Associate editors
Francisca Figueira
Conservadora-restauradora | Conservator-restorer
Laboratório José de Figueiredo, Direcção-Geral do Património Cultural, Lisboa, Portugal
Elin Figueiredo
Investigadora Integrada
Centro de Investigação de Materiais, CENIMAT/i3N, Universidade Nova de Lisboa, Caparica, Portugal
Tiago Miguel Ferreira
Investigador
Institute for Sustainability and Innovation in Structural Engineering (ISISE), Universidade do Minho,
Portugal

Edição, propriedade e redacção | Publisher and editorial office
ARP – Associação Profissional de Conservadores-Restauradores de Portugal
Junta de Freguesia de Santa Isabel
Rua Saraiva de Carvalho, n.º 8, 2.º andar, 1250-234 Lisboa, Portugal
mail@arp.org.pt
Online: 2018-9-29
Publication: 2018-9-29
Downloads
Download data is not yet available.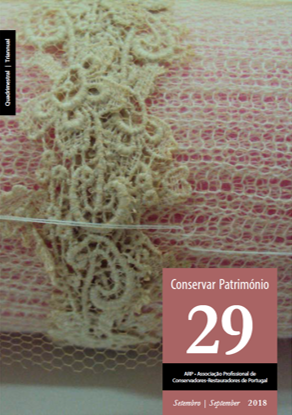 Downloads
How to Cite
AA.VV. (2018). Cover and technical information. Conservar Património, 29, 1–7. https://doi.org/10.14568/cp29fm1
Section
Cover and technical information
License
This work is distributed under a Creative Commons Attribution License (CC BY-NC-ND 4.0) which permits use, distribution, and reproduction in any medium following no commercial or derivatives, provided the original author and source are credited.
Copyright remains with the authors.