Cover and technical information
Abstract
Periodicidade | Frequency
Quadrimestral | Triannual

Director | Editor
António João Cruz
Professor Adjunto
Escola Superior de Tecnologia de Tomar, Instituto Politécnico de Tomar, Portugal

Directores-adjuntos | Associate editors
Francisca Figueira
Conservadora-restauradora | Conservator-restorer
Laboratório José de Figueiredo, Direcção-Geral do Património Cultural, Lisboa, Portugal
Agnès Le Gac
Professora Auxiliar
Faculdade de Ciências e Tecnologia, Universidade Nova de Lisboa, Portugal
Ana Bailão
Professora Auxiliar Convidada
Faculdade de Belas-Artes, Universidade de Lisboa, Portugal
Ana Zélia Miller
Investigadora Auxiliar
Laboratório HERCULES, Universidade de Évora, Portugal
Elin Figueiredo
Investigadora Integrada
Centro de Investigação de Materiais, CENIMAT/i3N, Universidade Nova de Lisboa, Caparica, Portugal
Tiago Miguel Ferreira
Investigador
Institute for Sustainability and Innovation in Structural Engineering (ISISE), Universidade do Minho,
Portugal

Revista académica com avaliação por pares
Academic peer-reviewed journal
Conservar Património
ARP • Associação Profissional de Conservadores-Restauradores de Portugal

Paginação | Layout
António João Cruz

Edição, propriedade e redacção | Publisher and editorial office
ARP – Associação Profissional de Conservadores-Restauradores de Portugal
Junta de Freguesia de Santa Isabel
Rua Saraiva de Carvalho, n.º 8, 2.º andar, 1250-234 Lisboa, Portugal
Online: 2019-4-30
Publication: 2019-4-30
Downloads
Download data is not yet available.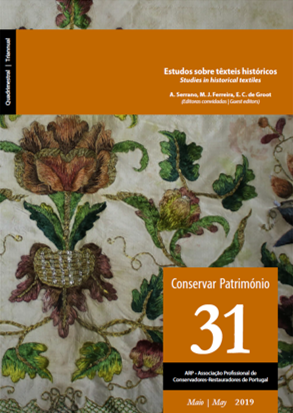 Downloads
How to Cite
AA.VV. (2019). Cover and technical information. Conservar Património, 31, 1–11. https://doi.org/10.14568/cp31fm1
Section
Cover and technical information
License
This work is distributed under a Creative Commons Attribution License (CC BY-NC-ND 4.0) which permits use, distribution, and reproduction in any medium following no commercial or derivatives, provided the original author and source are credited.
Copyright remains with the authors.