5th Portuguese-Brazilian Conference on Conservation and Restoration – an introductory note
Abstract
At the end of 2019, the 5th edition of the Portuguese-Brazilian Conference on Conservation and Restoration took place, and was organized by CITAR (Catholic University of Portugal) in collaboration with the Federal University of Rio de Janeiro. During the 9th and 10th of December topics were discussed related to recent events, such as the tragic fire in the National Museum of Rio de Janeiro, which occurred just over a year earlier; to the challenges posed by the conservation of new media art, contemporary art and scientific collections, as well as to the preservation of so-called more "traditional" cultural assets; without neglecting the necessary joint reflections about training on conservation and restoration on both sides of the Atlantic.
Downloads
Download data is not yet available.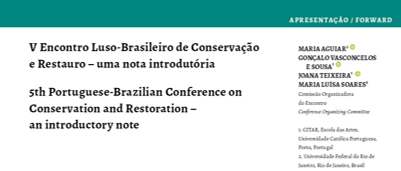 Downloads
How to Cite
Aguiar, M., Vasconcelos e Sousa, G., Teixeira, J., & Soares, M. L. (2021). 5th Portuguese-Brazilian Conference on Conservation and Restoration – an introductory note. Conservar Património, 38, 8–9. https://doi.org/10.14568/cp38fm2
License
This work is distributed under a Creative Commons Attribution License (CC BY-NC-ND 4.0) which permits use, distribution, and reproduction in any medium following no commercial or derivatives, provided the original author and source are credited.
Copyright remains with the authors.