Plastic toy soldiers, a lost battle? – an analytical perspective
Keywords:
Plastic objects, Multi-analytical method, Cellulose acetate, Triphenyl phosphate, Dimethyl phthalate
Abstract
The conservation and preservation of museum collections requires a detailed understanding of their constituent materials which are often natural, synthetic or semi-synthetic polymers. The use of a wide variety of instrumental techniques can give an extraordinary amount of quality information, by delivering complementary data regarding composition and structure.
This study was triggered by the Oporto Military Museum (Museu Militar do Porto) conservators who observed that a set of plastic toy soldiers dating back to the middle of the 20th century from the museum exhibition started to present severe and accelerated degradation process.
With this is mind, the authors envisaged a methodology for the characterisation of these soldier toys that compromised elemental, structural and morphologic analysis, to allow the identification of polymers, their additives, and the degradation products. The methodology comprised stereoscopic microscopy and VP-SEM-EDS to recognize the micromorphology, ATR-FTIR to identify the polymer, 1H and 13C NMR to identify their additives, and micro-XRD to identify degradation products with a crystal structure.
With this complementary analytical approach the composition of the toy soldiers was identified as being made of cellulose acetate plastic with triphenyl phosphate and dimethyl phthalate as major additives, and crystallyne efflorescence of triphenyl phosphate were identified as a degradation product. This methodology shows to be very adequate for a detailed characterization of plastic artefacts in museum environments.
Downloads
Download data is not yet available.
References
[1] Brydson, J. Plastics materials, 7th Ed., Elsevier, Butterworth-Heinemann, Oxford (1999) ISBN: 9780750641326.
[2] Wypych, G., Handbook of Plasticizers, 2nd Ed., ChemTec Publishing, Ontario, Canada, (2012) ISBN: 978-1-895198-97-3.
[3] Rychlý, J.; Matisová-Rychlá, L.; Csomorová, K., 'Degradation of plastics from the ResinKit as a model for the selection of polymers for artworks. Assessment by nonisothermal thermogravimetric analysis and chemiluminometry', Polymer Degradation and Stability 102(1) (2014) 105-111, https://doi.org/10.1016/j.polymdegradstab.2014.01.033.
[4] Madden, O.; Learner, T., 'Preserving plastics', The GCI Newsletter 29 (2014) 4-9.
[5] Keneghan, B., 'Damage limitation', Materials World 19 (2010) 24-25.
[6] Pangallo, D.; Chovanová, K.; Šimonovičová, A.; Ferianc, P., 'Investigation of microbial community isolated from indoor artworks and air environment: identification, biodegradative abilities, and DNA typing', Canadian Journal of Microbiology 55(3) (2009) 277-287 https://doi.org/10.1139/w08-136.
[7] Rosado, T.; Martins, M.R.; Pires, M.; Mirão, J.; Candeias, A.; Caldeira, A.T., 'Enzymatic monitorization of mural paintings biodegradation and biodeterioration', International Journal of Conservation Science, 4 (Spe. Issue) (2013) 603-612.
[8] Montanari, M.; Melloni, V.; Pinzari, F.; Innocenti, G., 'Fungal biodeterioration of historical library materials stored in Compactus movable shelves', International Biodeterioration & Biodegradation 75 (2012) 83-88 https://doi.org/10.1016/j.ibiod.2012.03.011.
[9] Manso, M.; Cardeira, A. M.; Silva, M.; Gac, A.; Pessanha, S.; Guerra, M.; Caldeira, A. T.; Candeias, A.; Carvalho, M. L., 'The mysterious halos in iron gall ink manuscripts: an analytical explanation' Applied Physics A 118(3) (2015) 1107-1111 https://doi.org/10.1007/s00339-014-8924-z.
[10] Latini, G., 'Potential hazards of exposure to Di-(2-Ethylhexyl)-Phthalate in babies', Biology of the Neonate 78(4) (2000) 269–276 https://doi.org/10.1159/000014278.
[11] Hill, S.; Shaw, B.; Wu, H., 'The clinical effects of plasticizers, antioxidants, and other contaminants in medical polyvinylchloride tubing during respiratory and non-respiratory exposure' Clinica Chimica Acta 304(1-2) (2001) 1–8 https://doi.org/10.1016/s0009-8981(00)00411-3.
[12] Brockway, R., Safe handling of plastics. Eco Exchange (newsletter of Smithsonian Institution Green Team) 4 (2009) 1-4.
[13] Sonnenschein, C.; Soto A., 'An updated review of environmental estrogen and androgen mimics and antagonists', The Journal of Steroid Biochemistry and Molecular Biology 65(1-6) (1998) 143-150 https://doi.org/10.1016/S0960-0760(98)00027-2.
[14] Pourmortazavi, S.; Hosseini, S.; Rahimi, N.; Hajimirsadeghi, S.; Momenian, H., 'Effect of nitrate content on thermal decomposition of nitrocellulose', Journal of Hazardous Materials 162(2-3) (2009) 1141-1144 https://doi.org/10.1016/j.jhazmat.2008.05.161.
[15] Rong, L.; Binke, N.; Yuan, W.; Zhengquan, Y.; Rongzu, H., 'Estimation of the critical temperature of thermal explosion for the highly nitrated nitrocellulose using non-isothermal DSC', Journal of Thermal Analysis and Calorimetry 58(2) (1999) 369-373 https://doi.org/10.1023/A:1010155221958.
[16] Binke, N.; Rong, L.; Zhengqua, Y.; Yuan, W.; Pu, Y.; Rongzu, H.; Qingsen, Y., 'Studies on the kinetics of the first order autocatalytic decomposition reaction of highly nitrated nitrocellulose', Journal of Thermal Analysis and Calorimetry 58(2) (1999) 403-411 https://doi.org/10.1023/A:1010163423775.
[17] Knotková-Cermákova, D.; Vlcková, J., 'Corrosive effect of plastics, rubber and wood on metals in confined spaces', British Corrosion Journal 6(1) (1971) 17-22 https://doi.org/10.1179/000705971798324134.
[18] Lattuati-Derieux, A.; Egasse, C.; Thao-Heu, S.; Balcar, N.; Barabant, G.; Lavédrine, B., 'What do plastics emit? HS-SPME and GC/MS analyses of new standard plastics and plastic objects in museum collections', Journal of Cultural Heritage 14(3) (2013) 238-247 https://doi.org/10.1016/j.culher.2012.06.005.
[19] Larkin, N.; Blades, N.; Makridou, E., 'Investigation of volatile organic compounds associated with polyethylene and polypropylene containers used for conservation storage', The Conservator 24(1) (2000) 41-51 https://doi.org/10.1080/01410096.2000.9995149.
[20] Shashoua, Y., Conservation of plastics: materials science, degradation and preservation, Butterworth-Heinemann, Oxford (2008) https://doi.org/10.4324/9780080878782.
[21] Šuštar, V.; Kolar, J.; Lusa, L.; Learner, T.; Schilling, M.; Rivenc, R.; Khanjian, H.; Koleša, D., 'Identification of historical polymers using Near-Infrared Spectroscopy', Polymer Degradation and Stability 107 (2014) 341-347 https://doi.org/10.1016/j.polymdegradstab.2013.12.035.
[22] Schilling, M.; Bouchard, M.; Khanjian, H.; Learner, T.; Phenix, A.; Rivenc, R., 'Application of Chemical and Thermal Analysis Methods for Studying Cellulose Ester Plastics', Accounts of Chemical Research 43(6) (2010) 888-896 https://doi.org/10.1021/ar1000132.
[23] Stuart, B., Analytical Techniques in the Sciences: Polymer Analysis, Wiley, Chichester (2007) https://doi.org/10.1002/9780470511343.
[24] Learner, T., 'The analysis of synthetic paints by pyrolysis gas chromatography, mass spectrometry (PyGCMS)', Studies in Conservation 46(4) (2001) 225-241 https://doi.org/10.1179/sic.2001.46.4.225.
[25] Pereira, A.; Candeias, A.; Cardoso, A.; Rodrigues, D.; Vandenabeele, P.; Caldeira, A. T., 'Non-invasive methodology to identify plastic objects in museum environment - a novel approach', Microchemical Journal 124 (2016) 846-855 https://doi.org/10.1016/j.microc.2015.07.027.
[26] Pereira, A.; Caldeira, A. T.; Maduro, B.; Vandenabeele, P.; Candeias, A., 'Tortoiseshell or Polymer? Spectroscopic Analysis to Redefine a Purported Tortoiseshell Box with Gold Decorations as a Plastic Box with Brass', Applied Spectroscopy 70(1) (2016) 68–75 https://doi.org/10.1177/0003702815615344.
[27] Puls, J.; Wilson, S.; Hölter, D., Degradation of cellulose acetate-based materials: a review. Journal of Polymers and the Environment. 19 (2011) 152 -165 https://link.springer.com/article/10.1007/s10924-010-0258-0.
[28] McGath, M., Investigation of Deterioration Mechanisms of Cellulose Acetate Compounded with Triphenyl Phosphate, Ph.D. Thesis, Department of Materials Science and Engineering, The University of Arizona, 2012.
[29] Littlejohn, D.; Pethrick, R.; Quye, A.; Ballany, J., 'Investigation of the degradation of cellulose acetate museum artefacts', Polymer Degradation and Stability 98(1) (2013) 416-424 https://doi.org/10.1016/j.polymdegradstab.2012.08.023.
[30] May, E.; Jones, M., Conservation Science: Heritage Materials, 1st Ed., Royal Society of Chemistry, Cambridge (2006) https://doi.org/10.1039/9781847557629.
[31] Silverstein, R.; Webster, F.; Kiemle, D., Spectrometric Identification of Organic Compounds, 8th Ed, John Wiley and Sons, New York (2014) ISBN: 978-0-470-61637-6.
[32] Spectral Database for Organic Compounds, SDBS, https://sdbs.db.aist.go.jp/ (acesso em 2019-12-10).
[33] Tsang, J.;Madden, O., Coughlin, M.; Maiorana, A.; Watson, J.; Little, N.; Speakman, R. Degradation of 'Lumarith' Cellulose Acetate: Examination and Chemical Analysis of a Salesman's Sample Kit, Studies in Conservation, 54 (2) (2009) 90-105 https://www.tandfonline.com/doi/abs/10.1179/sic.2009.54.2.90.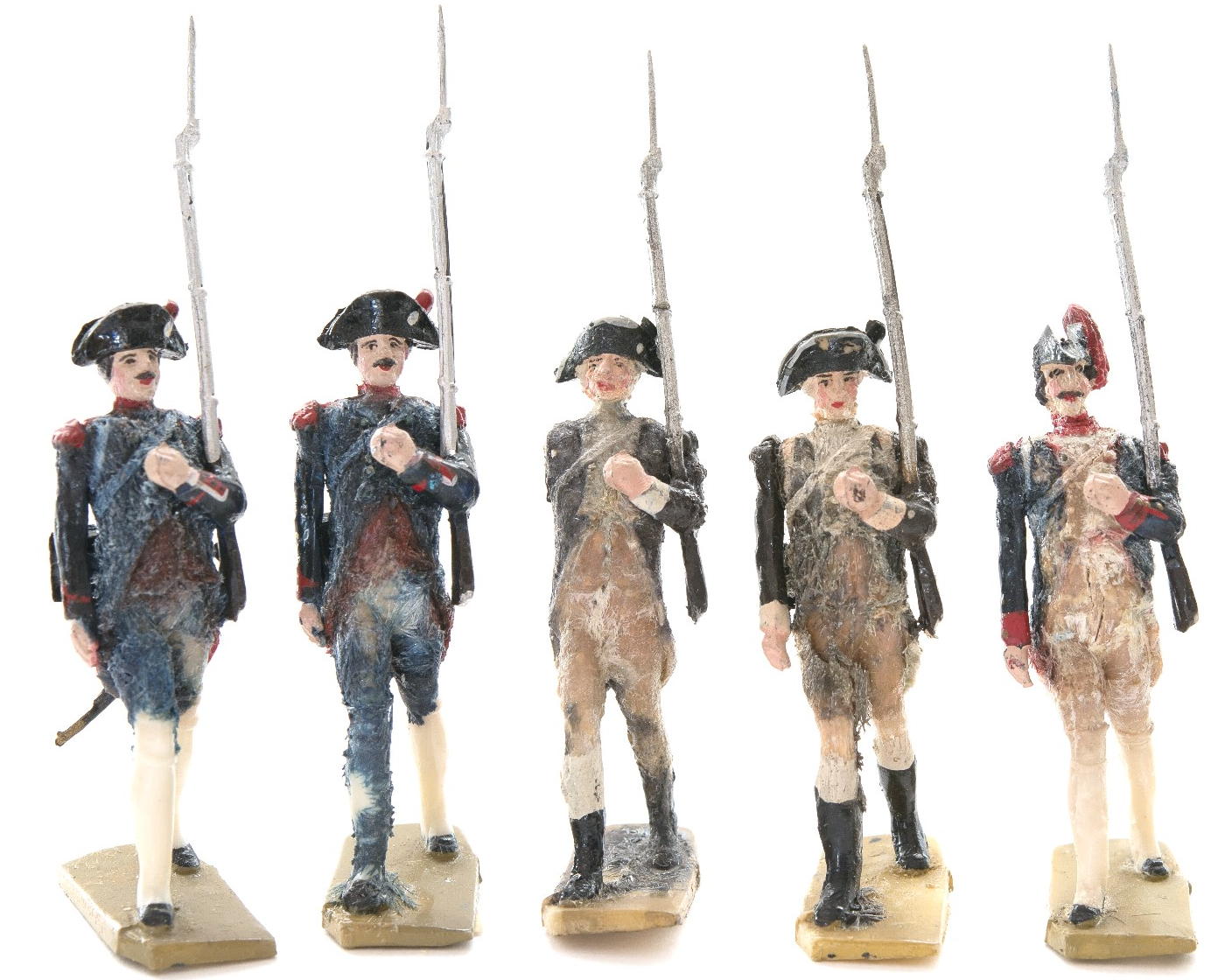 Downloads
How to Cite
Pereira, A., Candeias, A., Cardoso, A., Mirão, J., & Caldeira, A. T. (2020). Plastic toy soldiers, a lost battle? – an analytical perspective. Conservar Património. https://doi.org/10.14568/cp2020002