A stumpwork mirror in the collection of the Medeiros e Almeida House-Museum – descriptive and iconographical analyses
Keywords:
Mirror, Embroidery, Stumpwork, 17th Century, Charles II, Catherine of Braganza
Abstract
The aim of this paper is to analyze a work of art belonging to the collection of textiles of the Medeiros e Almeida House-Museum collection. It is a wall mirror of English production, with an embroidery frame, made in the third quarter of the 17th century, whose decoration includes a depiction of King Charles II and Queen Catherine of Braganza. The originality of this piece consists in the type of needlework, called stumpwork, that it is the result of the combination of both direct and applied embroidery on pads, creating a relief effect. Produced with a wide variety of techniques and materials, the stumpwork was produced during the 17th century. In order to understand and contextualize the work of art, aspects such as the period and the reasons that gave birth to this curious kind of work, the techniques and materials used, the themes addressed and the respective iconographic sources were approached.
Received: 2018-6-21
Revised: 2018-11-26
Accepted: 2018-12-14
Online: 2019-3-6
Publication: 2019-4-30
Downloads
Download data is not yet available.
References
[1] Peranteau, A.; Carlson, J.; Mass, J., 'The technical analysis of two pieces of 17th century English embroidery', in Scientific Analysis of Ancient and Historic Textiles: Informing Preservation, Display and Interpretation, eds. P. Wyeth & R. C. Janaway, Archetype Publications, London (2005) 24-30.
[2] Leslie, C. A., Needlework through History. Handicrafts through World History - An Encyclopedia, Greenwood Press, Westport, Connecticut (2007) 210-212.
[3] Lewandowski, D. E., 'Raised work - stump work. A confusion of terms' (2002), in The Art of Embroidery Heritage Shoppe, http://www.joshuatree-national-park.com/heritageshoppecom/heritage/essays/raisedwork.html (acesso em 2018-11-20).
[4] Remington, P., English Domestic Needlework of the XVI, XVII and XVIII Centuries, The Metropolitan Museum of Art, New York (1945).
[5] Ashton, L., 'Martha Edlin: a Stuart embroideress', The Connoisseur 323 (1928) 215-223.
[6] Kendrick, A. F., 'Embroideries in the collection of Sir Frederick Richmond, Bart', The Connoisseur 95 (1935) 282-288, 317-321.
[7] Watt, M., 'English embroidery of the Late Tudor and Stuart Eras' (2010) in Heilbrunn Timeline of Art History, The Metropolitan Museum of Art, https://www.metmuseum.org/toah/hd/broi/hd_broi.htm (acesso em 2018-6-8).
[8] Stanley, M., 'Vauxhall Glassworks', in Vauxhall, the Oval and Kennington, https://www.vauxhallandkennington.org.uk/glassworks.shtml (acesso em 2018-6-10).
[9] Toulmin, J., The History of Taunton, in the County of Somerset, London (1822).
[10] Symonds, R.W., 'Carved and gilt Carolean looking-glasses', The Antique Collector 19(6) (1948) 193-198.
[11] Macquoid, P.; Edwards, R., The Dictionary of English Furniture, from the Middle Ages to the Late Georgian Period, vol. 2, Offices of Country Life, London & Charles Scribner's Sons, New York (1924).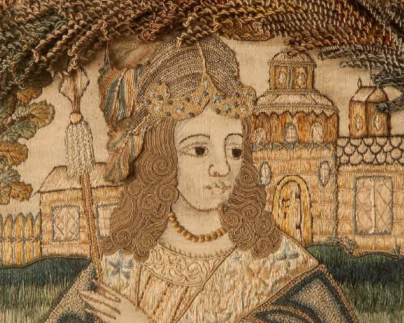 Downloads
How to Cite
de Lima Mayer, M. (2019). A stumpwork mirror in the collection of the Medeiros e Almeida House-Museum – descriptive and iconographical analyses. Conservar Património, 31, 177–190. https://doi.org/10.14568/cp2018028
License
This work is distributed under a Creative Commons Attribution License (CC BY-NC-ND 4.0) which permits use, distribution, and reproduction in any medium following no commercial or derivatives, provided the original author and source are credited.
Copyright remains with the authors.