Removal of iron oxides from a sixteenth century ornamental fountain belonging to Quinta da Cardiga (Torres Novas, Portugal)
Keywords:
Conservation, Restoration, Marble, Chelants, Spectrophotometry
Abstract
The ornamental fountain in marble and breccia is a 16th century Italian work integrated in the small courtyard of the Cardiga Palace (Torres Novas, Portugal) currently in restauration process. The iron spikes used to connect the constituent elements were corroded and contaminating the base stone elements surfaces with intense stains of metallic oxides. There was a suspicion that, apart the surface, these oxides could have migrated in depth through the porous structure of the material. The performance of the iron oxides removal tests was evaluated using optical measurements in the CIELAB color space after each chelant application. Sodium dithionite was found to exert a substantially higher cleaning action than ammonium citrate. After finishing the treatment with the most efficient chelant, the chelating action was verified below the surface of the marble. It was found that at the depth of 1 mm the material remained contaminated with iron oxides, with an evident color contrast with a treated surface.
Received: 2018-12-8
Revised: 2019-3-11
Accepted: 2019-4-5
Online: 2019-4-24
Published: 2020-7-31
Downloads
Download data is not yet available.
References
[1] Sequeira, G. M., Inventário Artístico de Portugal. Distrito de Santarém, vol. 3, Academia Nacional de Belas Artes, Lisboa (1949).
[2] 'Decreto n.o 38.673 de 12 de março', Ministério da Educação Nacional - Direção Geral do Ensino Superior e das Belas Artes (1952).
[3] Batista, L. M. P., Cardiga. De Comenda a Quinta da Ordem de Cristo (15291630), Município de Torres Novas, Torres Novas (2009).
[4] Selwyn, L.; Tse, S., 'The chemistry of sodium dithionite and its use in conservation', Studies in Conservation 53(S2) (2008), 61-73, https://doi.org/10.1179/sic.2008.53.Supplement-2.61.
[5] Spile, S.; Suzuki, T.; Bendix, J.; Simonsen, K. P., 'Effective cleaning of rust stained marble', Heritage Science 4(1) (2016), 12, https://doi.org/10.1186/s40494-016-0081-6.
[6] Macchia, A.; Ruffolo, S.; Rivaroli, L.; La Russa, M., 'The treatment of iron-stained marble: toward a "green" solution', International Journal of Conservation Science 7(1) (2016), 323-332, http://www.ijcs.uaic.ro/public/IJCS-16-SI15_Macchia.pdf (acesso em 2018-3-11).
[7] Bams, V.; Dewaele, S., 'Staining of white marble', Materials Characterization 58(11-12) (2007), 1052-1062, https://doi.org/10.1016/j.matchar.2007.05.004.
[8] Gervais, C.; Grissom, C. A.; Little, N.; Wachowiak, M. J., 'Cleaning marble with ammonium citrate', Studies in Conservation 55(3) (2010), 164-176, https://doi.org/10.1179/sic.2010.55.3.164.
[9] Mokrzycki, W.; Tatol, M., 'Colour difference E- A survey', Machine Graphics and Vision 20(4) (2011), 383-411, https://www.researchgate.net/publication/236023905 (acesso em 2018-6-14).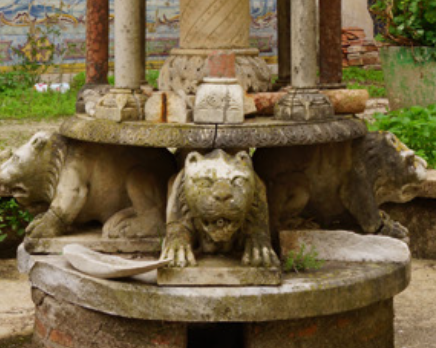 Downloads
How to Cite
Pereira, N., Rocha, M., Rosa, M., & Costa, F. (2020). Removal of iron oxides from a sixteenth century ornamental fountain belonging to Quinta da Cardiga (Torres Novas, Portugal). Conservar Património, 34, 134–142. https://doi.org/10.14568/cp2018063
License
This work is distributed under a Creative Commons Attribution License (CC BY-NC-ND 4.0) which permits use, distribution, and reproduction in any medium following no commercial or derivatives, provided the original author and source are credited.
Copyright remains with the authors.